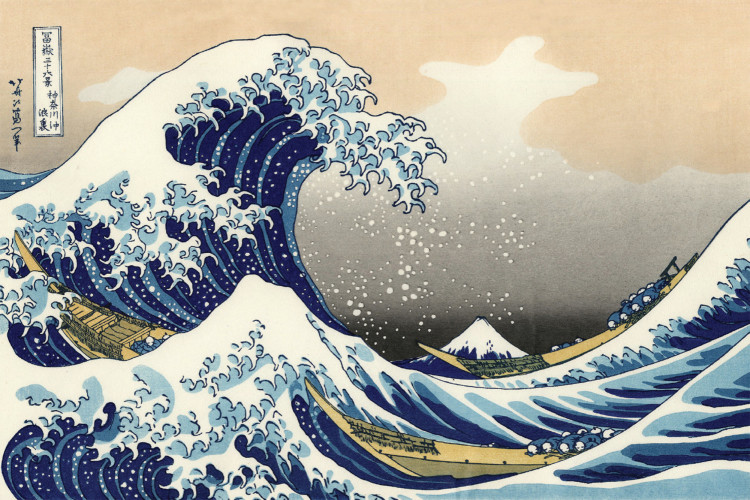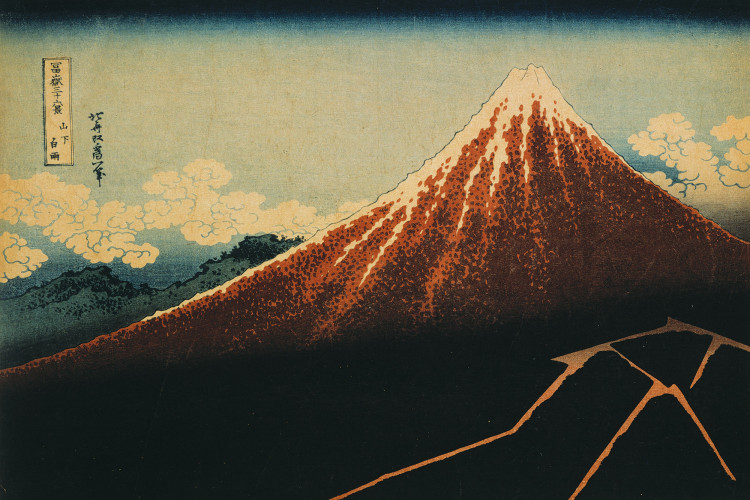 Katsushika Hokusai
22 August 2015 - 21 February 2016
Take the opportunity to view Hokusai's renowned series of ukiyo-e woodblock prints. This series, which was originally created between 1826 and 1833, includes some of the most iconic images associated with Japanese printmaking.
Born in Edo (now Tokyo) in 1760, Katsushika Hokusai is one of the most internationally celebrated figures of Japanese art. Hokusai was a master of the art of ukiyo-e – a genre of woodblock printing and painting that emerged in seventeenth century Japan. Within a working life that extended over seventy years, Hokusai's Thirty-six Views of Mount Fuji is widely regarded as the pinnacle of his career, and a key moment in the history of Japanese printmaking.
Ukiyo-e, which translates to 'pictures of the floating world', rose to prominence as a school of art inspired by everyday life. Although ukiyo-e included painting, it is the distinctive colour woodblock prints that have become most closely associated with this movement. Combining classical Chinese and Japanese methods with modern content — leisure activities, courtesans, and kabuki theatre were all common subject matter -— ukiyo-e quickly became popular across a broad spectrum of Japanese society. It wasn't until the genre was well established that the landscape became a prominent subject, epitomised by works such as those in Hokusai's Thirty-six Views of Mount Fuji.
Hokusai began producing Thirty-six Views of Mount Fuji around 1830 and the series took several years to complete. The original set of 36 images was followed by a later supplement, with 46 works in total. The series depicts the sacred mountain of Fuji viewed from different angles, in a range of moods, seasons and settings. In keeping with the tradition of ukiyo-e, everyday activities feature prominently; people at work and play, all set against the splendour of Mt Fuji.
Thirty-six Views of Mount Fuji reflects the great level of skill possessed by Hokusai in this mature period of his life. The works were considered to be an entirely new direction for ukiyo-e and 'the first real high point of the independent Japanese landscape print'.(1) In 1834, Hokusai produced an additional 100 Views of Mount Fuji. Originally published as a three-volume book, 100 Views of Mount Fuji was later republished in London (in 1880) and would go on to have significant influence on European artists.
One of Hokusai's great achievements was the way in which his work bridged between East and West. At this time, Japan was a nation secluded from the world by its feudal rulers – disconnected from developments of international art. Hokusai succeeded in bringing the traditional techniques learned from his masters together with ideas he gleaned from available material on Western art. This was particularly evident in his use of Western-style perspective in the treatment of the landscape.
The international publication of 100 Views of Mount Fuji in the nineteenth century vastly extended knowledge of Hokusai's work. After many years of isolation, the discovery of ukiyo-e imagery was a revelation to artistic communities in Europe and elsewhere, and Hokusai become a key figure in the wider understanding of Japanese art.
1. Lane, Richard. Images from the Floating World. (Oxford: Oxford University Press, 1978). 164.