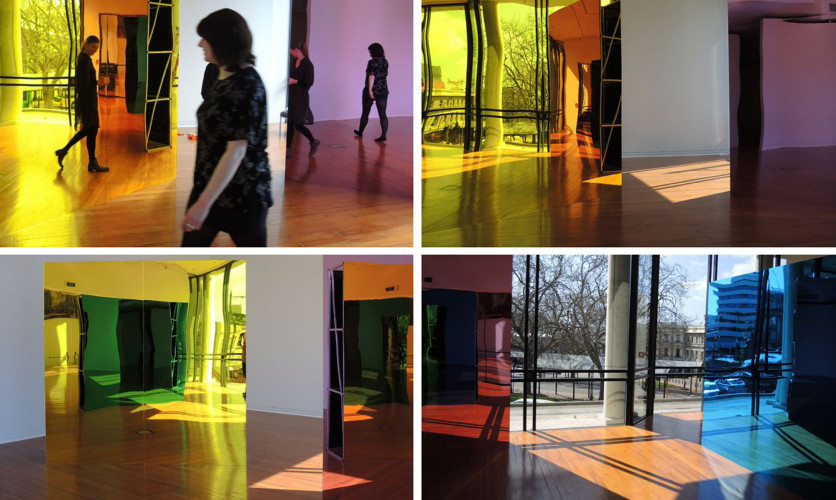 Untitled
3 October 2015 - 1 November 2015
This installation is a collaboration between Australian artists Rebecca Baumann and Brendan van Hek, which places the viewer, including the surrounding environment, into the role of performer. Positioned in a triangular formation, the large, reflecting panels which make up the installation alter perceptions of colour, movement, light and space. Each panel is tinted in one of the CMYK primary colours - cyan, magenta and yellow – a model frequently used in the printing process. A myriad of secondary colours are created in the reflections, intersected with movements from the viewer and the outside world.
Rebecca Baumann works predominately in sculpture, installation and performance; all anchored in an ongoing exploration of emotions and human psychology. Her colourful installations, often kinetic and ephemeral, utilise colour, movement and spectacle as tools to change and reconfigure the inherent language of materials. Confetti, balloons, light, streamers, smoke and tinsel are just a few of the diverse, playful and experimental materials that Baumann employs. Through the use of colour as subject and object Baumann considers what it means to be human and asks the question 'what would happen if?'
Brendan van Hek also works in the field of installation. His work emerges from the artist's personal history, from fiction and from cultural politics: through these narratives he explores concepts of race, religion and masculinity. Like Baumann, van Hek also employs unusual materials including neon, metal, glass, mirror and disco balls.