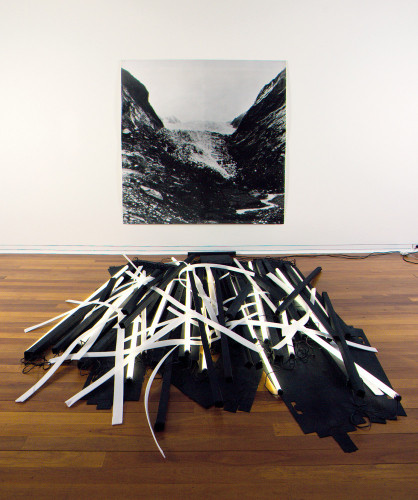 Miles Away
1 July 2008 - 30 October 2008
Bill Culbert has been playing with light as a subject and material in his art for more than thirty years. It is a fascination that has seen the production of a wondrous array of installation and photographic projects that are usually understated in their augmentation but profound in their implications. There is a distinct lightness of conceptual and physical touch to Culbert's practice; it is not haunted by the weight of cultural, social or art history. Instead lateral connections are formed by the artist's ability to reframe the most mundane detritus; office furniture, suitcases, lampshades, bottles and wineglasses through the subtle use of light, placement and re-contextualization of these objects.
This ability to fuse a seemingly disparate range of sensibilities, from the abstract to the romantic, and the concrete to the sublime, is clearly articulated in Miles Away. But this does not mean that the various elements in this piece operate in a seamless manner. There is also a physical and psychological distance which prevents the work from conforming to a set of visual stereotypes. Its inherent elusiveness encourages us to think about the complex relationship between the codes of representation, the viewer's perception, and its mediation and reconfiguration through art.
Culbert was born in Port Chalmers in 1935, but has spent a significant proportion of his artistic life working in England and France. While he makes regular trips back to the Antipodies, he does so as a visitor, and this has coloured his relationship with, and understanding of, New Zealand. Transience and mutability are important guiding factors in this deconstructed New Zealand alpine vista. Miles Away is about a landscape travelled to from afar; it is something that is inherently familiar to the artist but also forged anew.