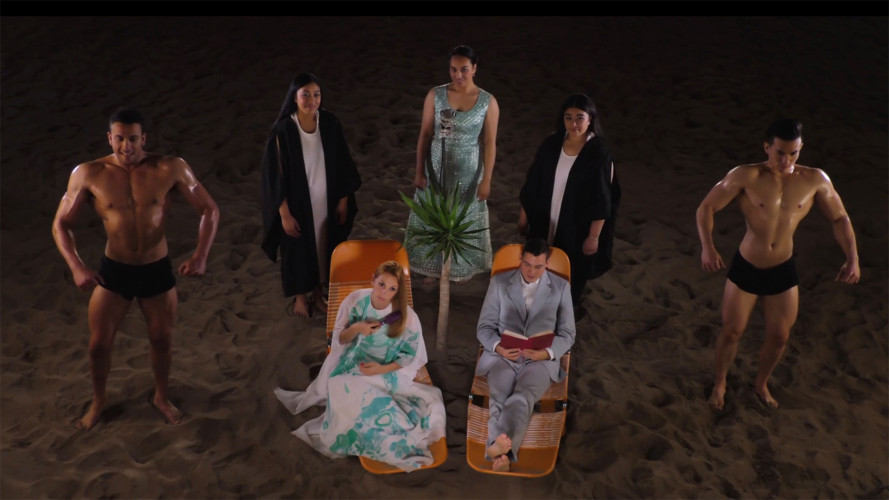 Into the Arms of my Coloniser
12 October 2020 - 13 December 2020
A REAR WINDOW PROJECT
Organised into seven chapters, this film playfully explores the complexities and perceptions of intercultural dating. As a Samoan New Zealander, Christopher Ulutupu is interested in exploring the concept of a 'hyphen-space' as a performative form of identity politics. The intercultural hyphen as a relational concept or model, can be 'likened to a gap or a bridge between ethnic groups', and it can also be paradoxical in nature in that it can be read from both sides of cultural connection and division.1 Ulutupu considers the inherent complexity of this hyphen-space metaphor when it applies to an individual's dating life.
This theme unfolds in a series of scenes often centred around one or more singers performing for the camera/viewer, including classic Samoan pop songs like 'Tele ia o le Sami (Let Me Hear You Whisper)' and Daniel Ray Costello's 'Dark Moon', The Beatles's 'Because', and Britney Spears's 'Lucky'. A stage is set with a sand floor, and sometimes a single palm tree or digital screen. A child plays with an oversized white soft toy rabbit, a Pākehā couple dance together or sit in deck chairs and oiled body builders strut their stuff. These figures move as independent units in each scene, not looking at the camera. They read as examples of othered bodies, communities or players within an interwoven narrative. As a collection of hyphen-space enactments, Into the Arms of my Coloniser is playfully generative in the way it challenges the notion of othering.
1. See Georgina Stewart, 'From both sides of the indigenous-settler hyphen in Aotearoa New Zealand', Educational Philosophy and Theory, 50:8, 767-775.