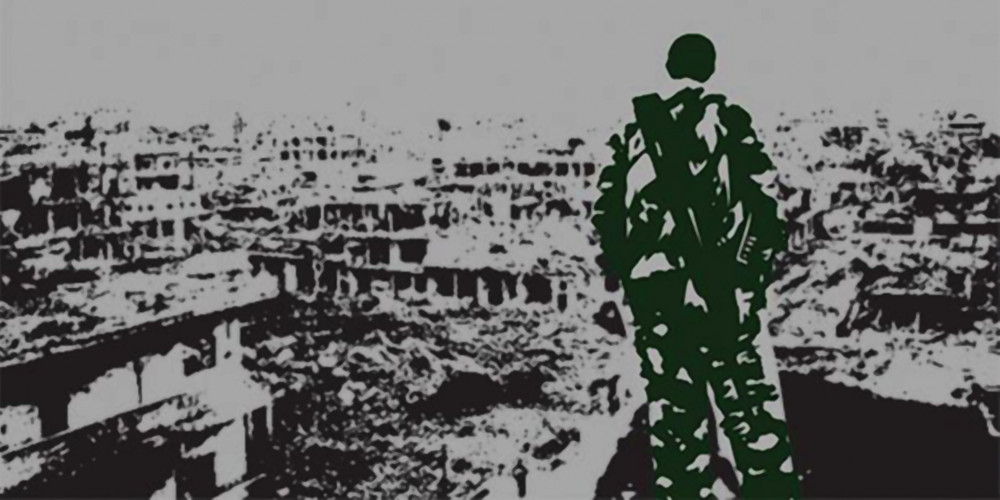 Eugene Hansen and Jenny Gillam
9 April 2016 - 29 May 2016
A REAR WINDOW PROJECT
Hometown is a multimedia installation that investigates global crises by Wellington-based artists Eugene Hansen and Jenny Gillam. The artists focus on the civil war currently unfolding in Syria; conflating imagery sourced from popular online-gaming and documentary photography to illustrate both the instrument of war and its harrowing outcomes. While the resulting refugee crisis may seem distanced from our reality in Aotearoa, this work cleverly narrows the degree of separation to unveil, and foster, social connectedness.
Displayed on the monitor is a sequence of gaming footage made using the same software as the popular survival video game Day-Z, which shows a male figure endlessly running through the landscape. Gillam and Hansen then present us with an ambiguous figure standing with his back towards us, overlooking a destructed landscape. The design is based on a documentary image which depicts Musa, a Kurdish marksman, overlooking the eastern part of the destroyed Syrian town of Kobane. By embedding this global moment within popular culture and landscape imagery that has been stripped of its specificity, we become spectators as we stand alongside the figure to survey the land which could be Aotearoa.
Eugene Hansen (Ngāti Maniapoto) and Jenny Gillam have a long-running collaborative practice, alongside their respective practices. They have exhibited their works extensively through solo and group shows including At a Distance of Forty-Two Days 2015 at Te Tuhi Centre for Auckland; and Sound Full: Sound in Contemporary Australian and New Zealand Art 2013 at Dunedin Public Art Gallery and City Gallery Wellington. Currently, Hansen and Gillam are Senior Lecturers at Whiti o Rehua School of Art, Massey University.