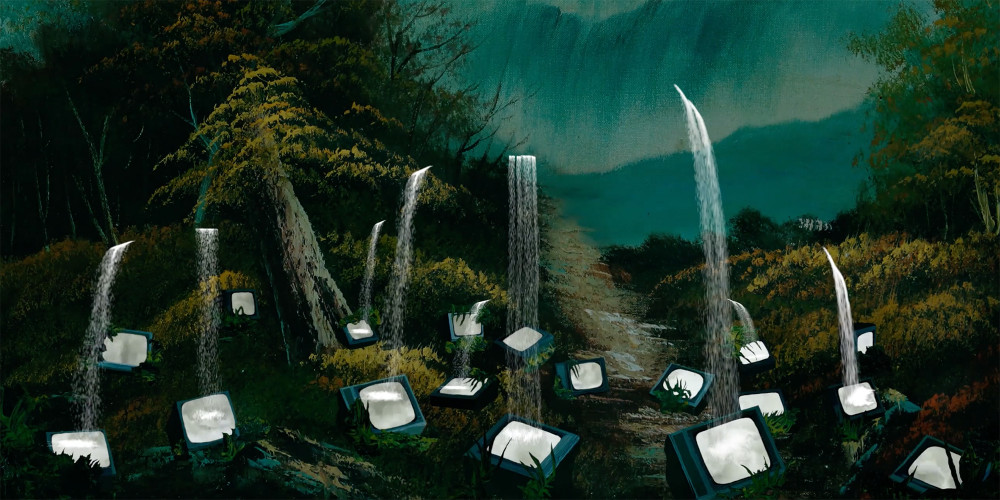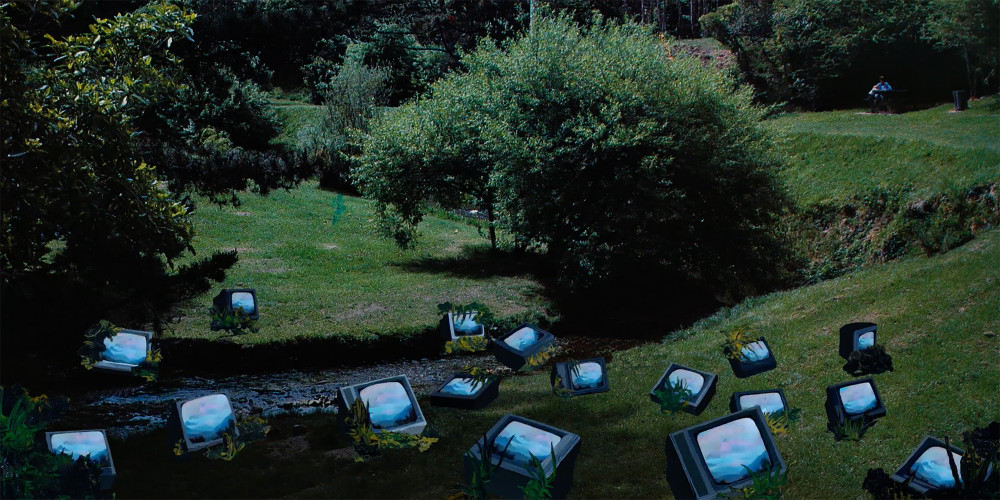 Water Feature
23 April 2018 - 10 June 2018
A REAR WINDOW PROJECT
In her photographs and video works Kate Woods creates imaginary landscapes – inaccessible but with an air of familiarity. These images are pieced together from found material, primarily scenic photographs and landscape paintings. Woods' landscapes are then layered with cardboard assemblage and paint, highlighting and re-contextualising particular events and key moments from the cultural and art historical discourse.
Water Feature presents a selection of four New Zealand landscapes; digitally merged with Nam June Paik's (b. 1932, d.2006) installation TV Garden (1974). Often referred to as the 'father of video art', TV Garden is considered one of Paik's most important works, consisting of 40 televisions positioned in various angles on the floor amongst a field of tropical plants. This blend of the natural and the digital is heightened by the video, Global Groove (1973) that flashes across all of the screens. Here, Woods also makes reference to an historical survey that found that New Zealand gallery visitors thought these spaces would be improved by the addition of water features at their entranceways. Hence each scene has been complemented with a gushing fountain or waterfall.
Kate Woods was born in Auckland in 1981. She is a Wellington based artist who holds a Bachelor of Fine Arts from Elam School of Fine Arts, Auckland University (2002). Woods has exhibited in artist run spaces, dealer and public galleries including Te Tuhi Centre for the Arts, Auckland; XYZ Collective, Tokyo and City Gallery Wellington. She was the recipient of an Asia New Zealand Foundation residency at Three Shadows Photography Art Centre in Beijing in 2012.