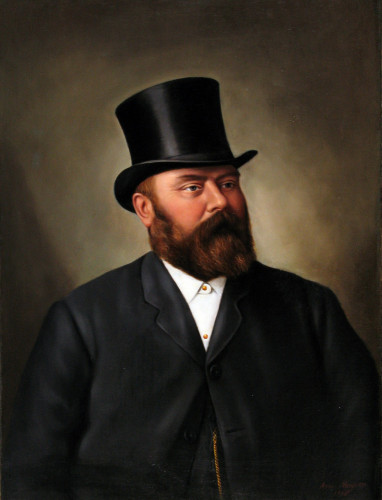 At a Glance
17 December 2011 - 22 January 2012
The Dunedin Public Art Gallery's collection has, since 1884 been developed and grown largely through the donations of works of art, or money to buy art, which it has received from generous benefactors. The exhibition 'Beloved', is a celebration of 125 years' of collecting. One of the Gallery's collection strengths lies in the area of portraiture.
This boutique exhibition titled 'Ladies and Gentleman: At a Glance', gathers together some of the portrait paintings that have come into the collection recently, in one way or another. In addition, and to extend the life-world of the paintings and the people they depict, a selection of items associated in some way with the individuals or the paintings of them, has been chosen and presented in the exhibition like a cabinet of curiosities, or a series of still-life assemblages. Some of the links between the objects and the paintings, are immediate and direct, while others are more abstract.
The style of the exhibition is intentionally decorative, informal, and personal. Some works have been left on their old mounts, or in their old frames, and handwritten letters and stories relating to some of the portrait subjects have been included to expand the contexts for the works, many of which have come to the institution from particular circumstances, but now exist within the rarefied confines of an art gallery.
This exhibition offers a glance at some recent collection additions and takes a personal approach towards the display and interpretation of aspects of the broader context from which these portraits came, and the relationships they now forge as works of art in a Dunedin public collection.
The Gallery gratefully acknowledges the loan of works from the Otago Settlers Museum; Private Collection, Dunedin; Jim Barr and Mary Barr; Angela Vickers Loan Collection, Dunedin Public Art Gallery.
View / download the exhibition texts - click this link