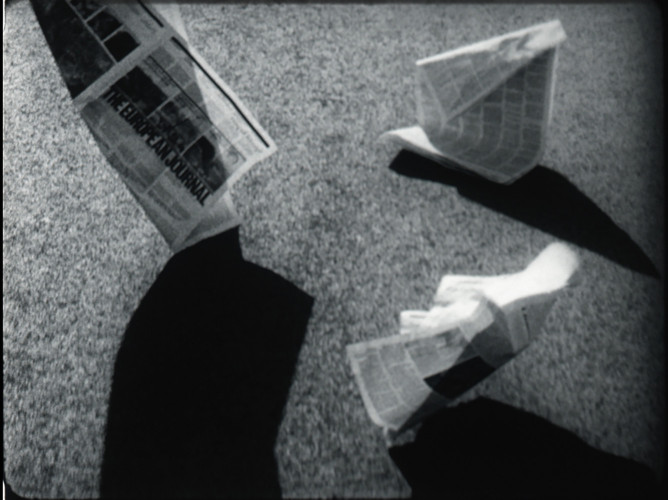 Newspaper for Vignelli
18 March 2019 - 19 May 2019
A REAR WINDOW PROJECT
Working across video, installation and performance, Sonya Lacey's practice is concerned with communication, language and information systems. These interests have seen her look to various printing histories across time – from specific designers, aesthetics and typography to production, distribution and the importance of site and context. Lacey's work blends the outcomes of these research avenues together with her own creative sensibilities – filling gaps, offering an alternative view, or acting as a disruption. These constructions blur the real and the imagined, presenting new ways to consider and question key moments of the past through Lacey's position in the contemporary moment.
Newspaper for Vignelli looks to the work of Italian designer Massimo Vignelli (1931 – 2014) and his proposed redesign of The European Journal (c.1978). While unpublished, Vignelli's version gained notoriety, praised for its rational layout and functionality. For Newspaper for Vignelli, due to the lack of material which existed around his original design, Lacey designed her own version – a construction that remained faithful to Vignelli's modernist aesthetic. The digital file was then printed and filmed as subject matter in Newspaper for Vignelli. As if it had been read and discarded, we watch the newspaper, caught by the wind, dance and tumble its way across the grass. Seemingly simple by design, this work asks questions of the availability and sharing of information, of the authenticity of reproductions, of the production process and the impacts of various forms and materials.
Sonya Lacey is based in Te Whanganui-a-Tara Wellington. She has exhibited throughout New Zealand at galleries including Artspace, The Govett Brewster, the Dowse Art Museum and Te Tuhi Centre for the Arts. Her video work By Sea has been screened in many international venues including the London International Film Festival and Oberhausen Film Festival, and she has recently undertaken residencies with NTUCCA Singapore, the Banff Art Centre, David Dale Glasgow, and Seoul Art Space Geumcheon.