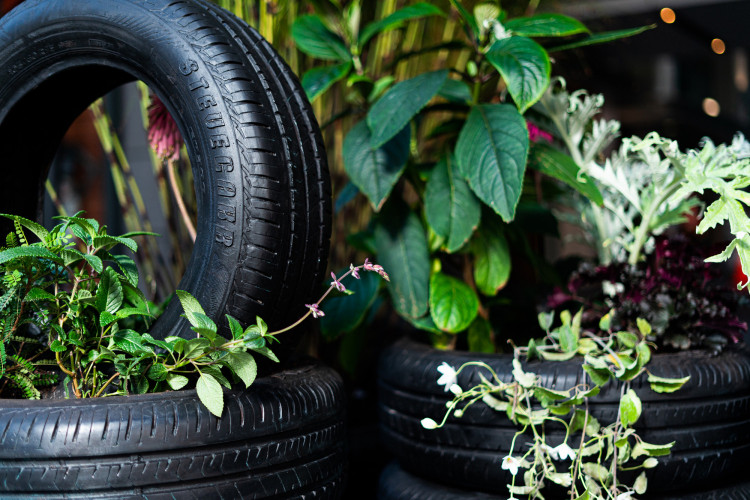 In Bloom
5 June 2021 - 29 August 2021
In Bloom was developed as part of Steve Carr's 2020 residency at McCahon House, Titirangi. In this installation, a series of planters has been assembled from discarded car tyres, cast in bronze and emblazoned with Carr's name and the title of the work.
Carr's art practice is often concerned with recording moments of change and transition. In Bloom creates a set of meeting points – between the fabricated and the natural, between movement and stillness, between perceptions of 'value' and of 'waste'. The tyres carry the language of use, reuse and reincarnation – from car culture to planter boxes, retaining walls, tyre swings, and a multitude of other applications in between.
With its series of fleeting plantings and arrangements reimagined by local designers at each presentation, In Bloom challenges the permanent nature of public sculpture. First presented over the summer at Takutai Square, Britomart, Tāmaki Makaurau Auckland, the sculpture was planted by landscape architect Jared Lockhart. In Autumn 2021 the sculpture was relocated to Ōtautahi Christchurch, in association with Christchurch Art Gallery Te Puna o Waiwhetū. This planting, developed by landscape architect Di Lucas, featured a scheme based around invasive and pest species. In Ōtepoti Dunedin from June until the end of August, In Bloom is reimagined for a Southern winter, its arrangement designed by Jolene Wilkinson.
Steve Carr (b.1976) is a contemporary artist based in Ōtautahi Christchurch. With a multidisciplinary practice, spanning sculpture, photography, film and performance, Carr exhibits in Aotearoa and Internationally. He received a Bachelor of Fine Arts (Sculpture, Hons) from the Otago Polytechnic School of Fine Arts, Dunedin, in 1998 and graduated Master of Fine Arts (Hons) from Elam, University of Auckland in 2003. In 2014 Carr participated in the Dunedin Public Art Gallery Visiting Artist programme, after which the Gallery acquired his digital video Transpiration (Offshoots), 2014 for the permanent collection.
In Bloom was made with the support of
Creative New Zealand Toi Aotearoa