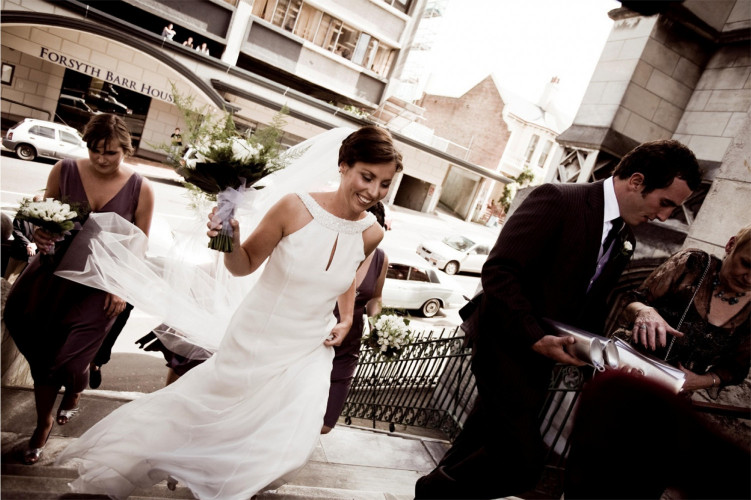 Not all White
29 March 2014 - 25 May 2014
A distinctive wedding dress helps to make a marriage celebration unique and memorable for all the participants. One way of achieving that distinctiveness, and obtaining a perfect-for-them dress is for the bride to commission a fashion designer. With her talent for draping and shaping fabric to fit and enhance the female form, Tanya Carlson is one of New Zealand's most esteemed fashion designers and is highly sought after for special occasion dresses. Known especially for her attention to form and colour and her beading skills, Carlson plays with the customs and techniques of couture to create wedding dresses that exceed her clients' expectations.
Carlson's design process begins with draping fabric on a dressmaker's dummy in order to visualise the form of each garment. Then through ruching, pleating, pinning and cutting she manipulates each dress into existence. Working closely with her client, Carlson chooses colours that range from subtle to bold but that always maintain a sophisticated beauty. Often she adds layers of hand-dyed fabric in slightly different shades to achieve depth and tone.
Both the exterior and interior of each dress are accorded equal attention. Where necessary, under structures, such as a built in bra or corset, help the garment stay put; petticoats, linings and layers add structure and shape. Seams are thoughtfully positioned, buttons and button loops are covered in the dress fabric and hems are hand stitched. Carlson uses beads, lace, or vintage fabrics to cleverly enhance the design and its wearer.
Elements of her dresses reference historical couture and designers such as Dior, Balenciaga, and Charles James but each is a Carlson original in its unique combination of form and embellishment. The wedding dresses in this exhibition are drawn from the last fifteen years to celebrate ID Dunedin Fashion Week's anniversary and Tanya Carlson's role in its development.
Supporting Carlson's dresses are a series of blocks in the form of 10 Cuisenaire rods produced by artist Michael Parekowhai. Parekowhai.(Nga-Ariki/Te Aitanga-A-Mahaki, Rongowhakaata) has created artworks with scaled-up Cuisenaire rods since the 1990s, drawing on their association with the teaching of Te Reo where they are used as props for creating conversations. Here too, they act as supports, displaying Carlson's remarkable wedding dresses.