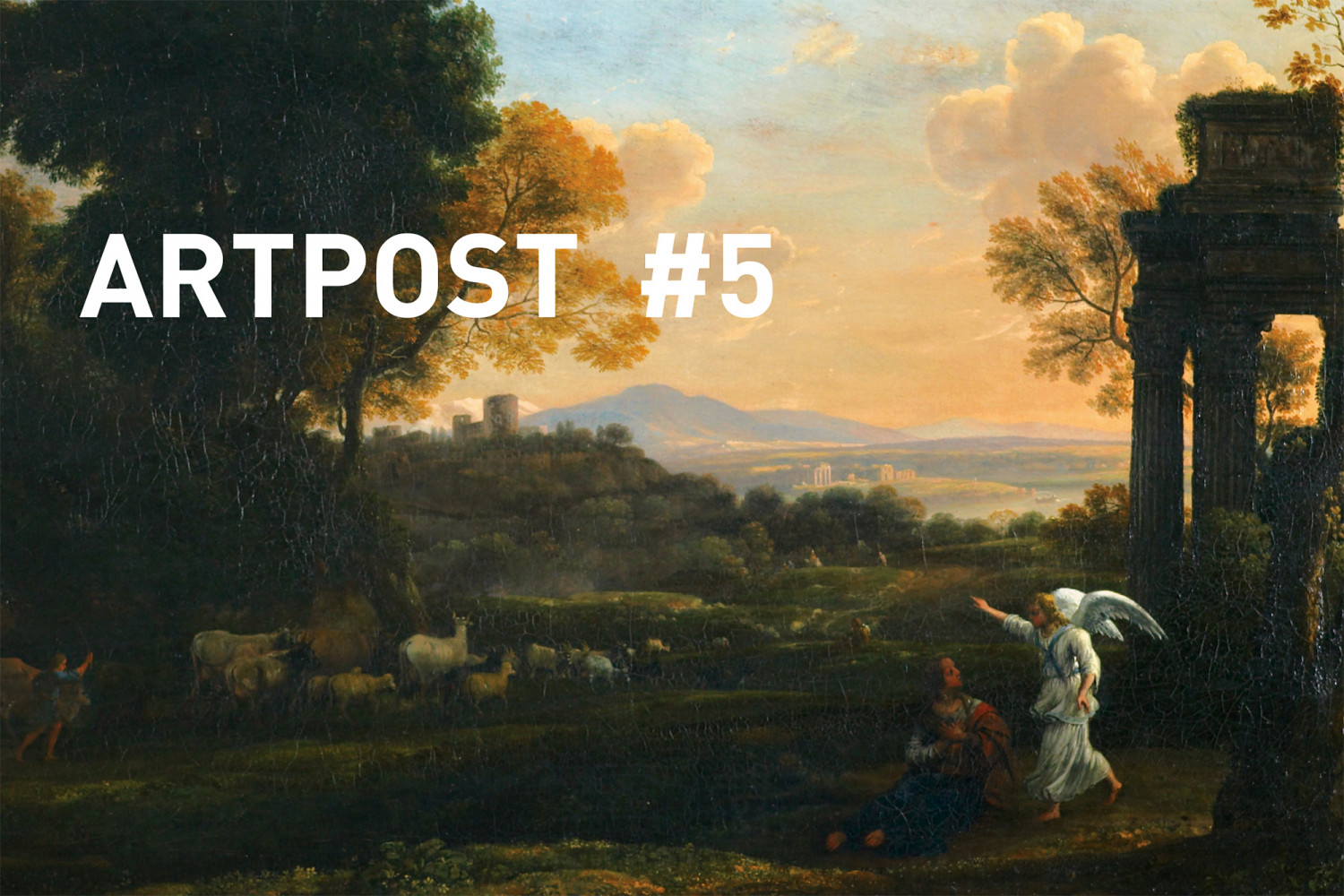 DPAG Weekly Update
4 May 2020
Kia ora dear friends of Dunedin Public Art Gallery!... something old (from one wilderness to another); something new (Saskia Leek's Early Telepaths works); something borrowed (we borrow some mono-printing ideas from Pablo Picasso); something to do (the popular DPAG Art Quiz and Animal-flavoured Art at Home activities) and something more (artist Emily Hartley-Skudder speaks to us from her Wellington studio)...
_________________________________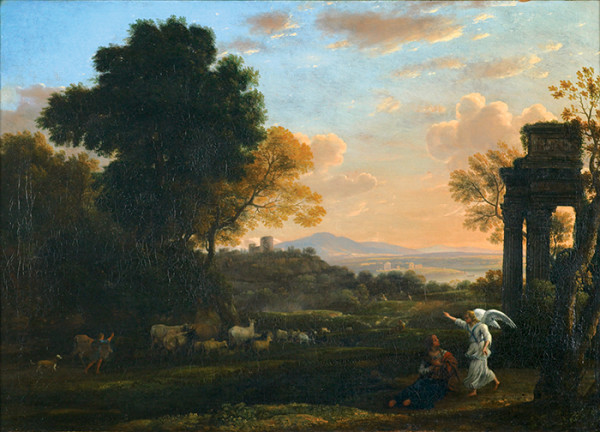 something old
continuity – a favourite artwork
Our CNZ Curatorial Intern, Joanna Osborne, reaches from our current wilderness back to the treasured historical wilderness of Hagar and the Angel painted by Claude Lorrain.

Feeling uncertain about my favourite artwork in the collection, I decided to spend some time with one of its treasures: Claude Lorrain's Landscape with Hagar and the Angel (1654).

This painting is a prime example of Lorrain's renown as an early pioneer in the landscape genre and an embodiment the picturesque. Like much of his work it contains a small narrative scene, in this case the minor biblical figure of Hagar (Genesis Ch.16).

Hagar was an Egyptian servant to Sarai (Sarah), the wife of the patriarch Abraham. Sarai persuaded Hagar to be a surrogate mother but became jealous and forced her to flee into the wilderness. There, an angel appeared to Hagar, offered her a divine promise and commanded her to return to cruel Sarai. Hagar was the 'other' in this narrative and treated badly, yet she was given a voice in the wilderness. How does this Hagar read through the lens of Lorrain's painting?

Listening for Hagar's voice in the picturesque, we find it framed by abundant flora, grazing cattle, a glowing sunset and a classical ruin. Is Lorrain empathetic to Hagar, offering her spiritual comfort and delight in natural beauty? Or, like the biblical narrator, is the landscape in control, ushering her out as the genre would eventually do?

Much of the time I spent thinking about this work was enveloped by browsing some great scholarship on the Hagar narrative in art and across cultural and postcolonial contexts. [1] I only scratched the surface, but for me Landscape with Hagar and the Angel feels much richer for having looked a little deeper.
---
1. For example, Cheryl Exum's Art as Biblical Commentary: Visual Criticism from Hagar the Wife of Abraham to Mary the Mother of Jesus (London: T&T Clark, 2019) considers a range of 17th Century paintings on the Hagar narrative alongside biblical analysis. One of my favourite Dunedin writers, Judith McKinlay, wrote about Hagar in her book Reframing her: Biblical Women in Postcolonial Focus (Sheffield: Sheffield Phoenix Press, 2004).
________________________________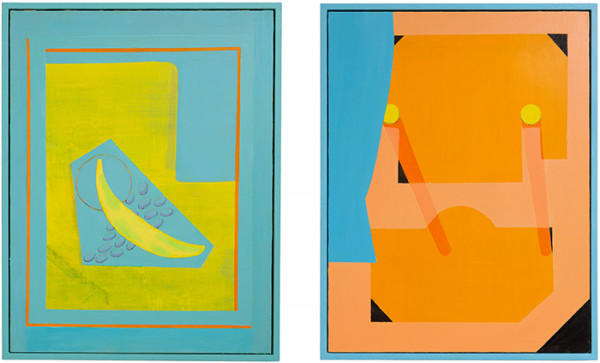 something new
optimism for the future – a recent acquisition
SASKIA LEEK
Early Telepaths 6 2019
Early Telepaths 9 2019

On 9 February 2019, the Dunedin Public Art Gallery (DPAG) opened Saskia Leek: Early Telepaths – an exhibition that presented a new suite of paintings by the Dunedin-based artist. Leek has a long-standing relationship with the DPAG, through both the collection and the exhibition programme. She spent 6 weeks with the Gallery in 2000 as part of the Visiting Artist Programme, a residency which culminated in the exhibition Ghost Painting (24 June – 10 Sept 2000), and in 2013 the Gallery hosted the large survey exhibition Desk Collection, which was developed and toured by The Dowse Art Museum.

The works in Early Telepaths were the continuation of an extended period of research, which Leek began while completing her MFA at Elam School of Fine Art, University of Auckland (graduating in 2016). Borne out of a process of reworking, elimination and experimentation, Leek's paintings move between and blend together elements drawn from representational and abstract art. Concerned with the qualities and processes of painting; colour, composition, saturation, brushstroke, subject-matter, light and framing devices are constantly and consistently being negotiated and defined. Looking across this body of work, Early Telepaths highlighted the way in which Leek's works offer a nuanced view into the history of painting and its agency in the current moment.

The Dunedin Public Art Gallery was thrilled to purchase two paintings from Early Telepaths for the permanent collection – Early Telepaths 6 and Early Telepaths 9. We look forward to being able to curate these works into a variety of exhibitions in the future!

For further reading, check out Saskia's interview with the Otago Daily Times here: https://www.odt.co.nz/entertainment/arts/aiming-loud-silent-presence
[above left: SASKIA LEEK Early Telepaths 6, 2019, oil on aluminium board. Courtesy of the artist, Jonathan Smart Gallery and Ivan Anthony. above right: SASKIA LEEK Early Telepaths 9, 2019, oil on aluminium board. Courtesy of the artist, Jonathan Smart Gallery and Ivan Anthony]
________________________________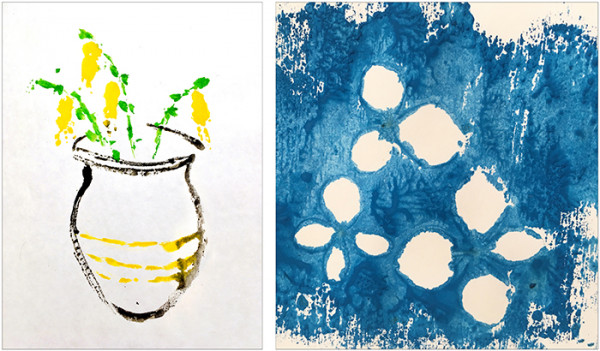 something borrowed
borrowed happiness — from Pablo Picasso
MONOPRINT USING PAINT
Pablo Picasso as inspiration:
"Every child is an artist. The problem is how to remain an artist once we grow up."
Pablo Picasso is considered to be the greatest artist of the 20th Century. He experimented with paint, clay, collage and his prints consisted of lithographs and linocuts. His lithographs became more prolific after World War II, and there is a link below where you can see one of the prints that the Dunedin Public Art Gallery has, from this edition, in its collection. To make a lithograph you need a special giant smooth stone and lithographic crayons, which none of us will have at home. So our print this week will be a mono print, using what we have on hand. A mono print is exactly what it sounds like – a one-off print that can't be repeated. If you want to continue your exploration of mono prints in the future, we think you will find it a delightful medium.
Here is what you will need to make your mono print:
A surface on which to lay paint – preferably an A4 or similar sized sheet of perspex, or a sheet of glass from an old picture frame (adults only for the glass) or a plain piece of wood can work too, but it will need to be dried between prints

Paints – Water or oil-based printing ink would be the usual medium to use

An apron

A brush or two – medium sized but any brush will work

A sheet of paper slightly bigger than your painted surface

A spoon to exert pressure on the back of your print
Method:
Paint your idea onto the perspex/glass/wood surface. Don't use too much paint.

Carefully line up your piece of print paper over the surface and gently press it down.

Using the back of a spoon, rub the reverse of the paper all over as evenly as possible until the image has transferred from the surface onto your print paper.

Lift the paper and turn over onto a waiting piece of newspaper. Allow it to dry.
Other methods:
Paint all of the perspex then place items – lace, leaves, flowers – onto the surface as per the flower print attached, then follow the steps as above. This method produces a negative shape. We used a wood surface and as you can see, this is a bit messy. The other print attached was painted on perspex.

Use cardboard cutouts glued to a surface, then paint the shapes but not the background and put the print paper on top and rub the areas where the shapes are - you will have a white paper with coloured shapes.
Picasso lithograph:
https://clarkfineart.com/artists/20th-century-masters/pablo-picasso/picador-ii/
Monotypes in the Tate Collection:
https://www.tate.org.uk/art/art-terms/m/monoprint
_________________________________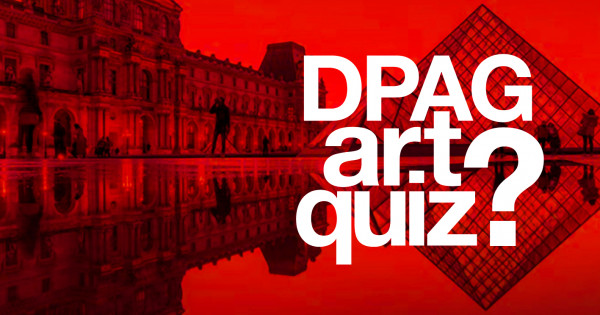 something to do...

1. The DPAG Art Quiz
This week's DPAG Art Quiz has quite an international flavour, bon chance – click this link.

2. More ART at HOME activities
We have added a lot more ART at HOME activities on to our web site, including these three creative creature ones by John Neumegen – build a cardboard cat castle, sketch a pet, and have fun making flip-flop pictures – go to the ART at HOME page.
_________________________________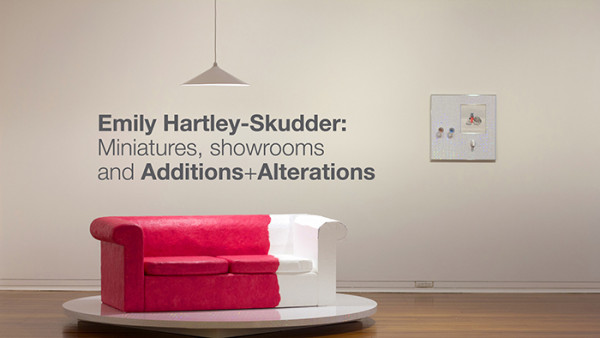 and something more...
Artist, Emily Hartley-Skudder, speaks to us from her makeshift studio in Wellington
In February of this year, the Dunedin Public Art Gallery opened Additions + Alterations, an exhibition that brings works from the Gallery's contemporary collection together with a new commission from Emily Hartley-Skudder. While this exhibition is currently behind closed doors, Emily speaks to us from her makeshift studio in Wellington – providing a glimpse into her practice, her interests in miniatures and staged environments, and her new work in Additions + Alterations – click here