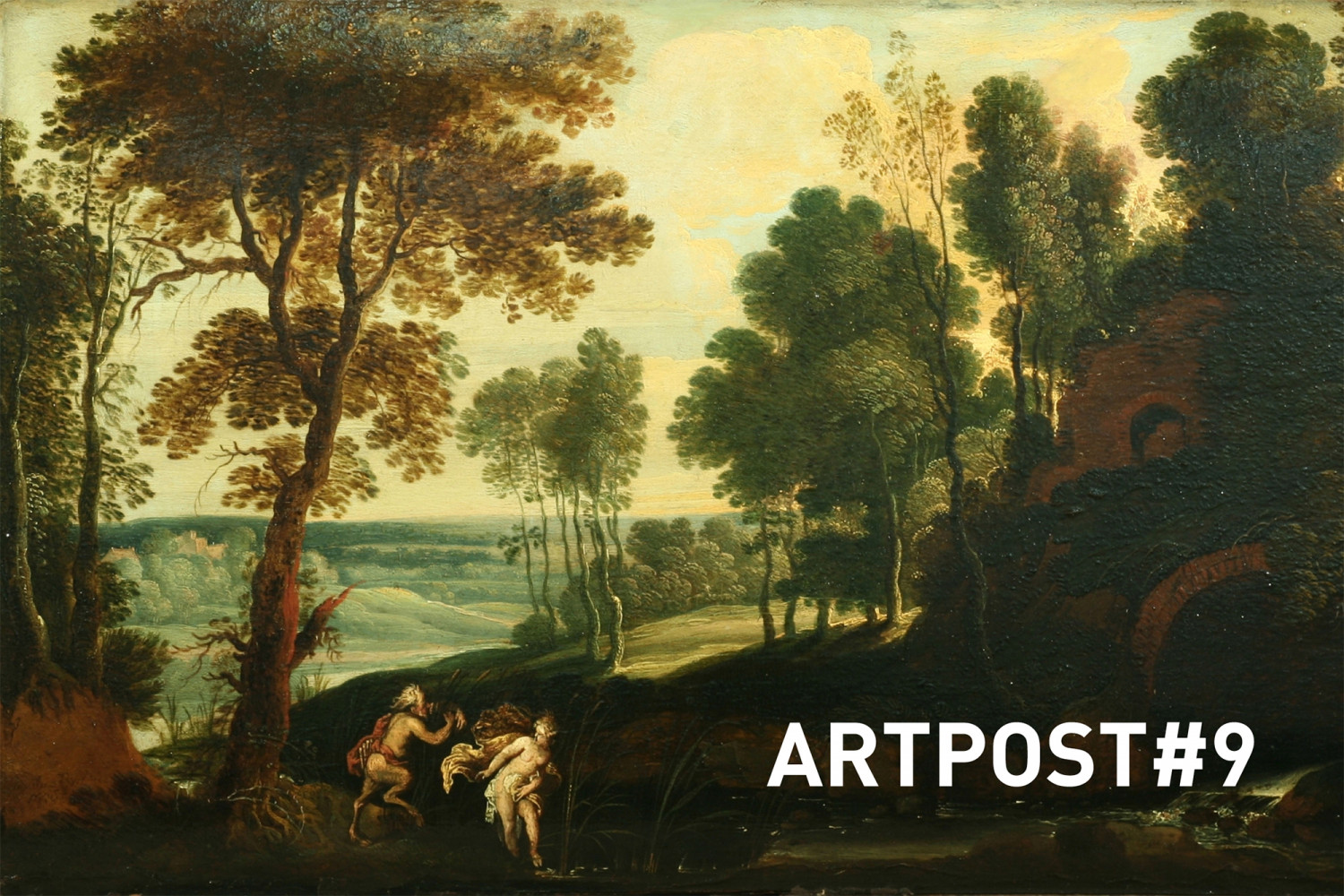 DPAG Weekly Update
1 June 2020
finding a four leaf clover...
Unknown after PAUL BRIL [1554-1626 Flemish]
Landscape with Pan and Syrinx 1620
Oil on wood. Collection of the Dunedin Public Art Gallery

During lockdown I have been working on a forthcoming book, written along with two other NZ paintings conservators, about the backs of paintings and what we learn from them. The book features the labels, repairs, collector's seals, hidden paintings, artist's sketches, methods of construction, that paintings conservators see routinely, yet are unknown to the general public. They add to our knowledge about the history of the artwork and can sometimes solve puzzles about them, such as revealing dates, or titles, or identity of the artist.

This 17th century Flemish oil painting on wood panel is by an unknown artist who copied a work by Paulus Bril entitled Landscape with Pan and Syrinx. We see an idyllic landscape with some small figures in the foreground. They are the Greek god Pan, a satyr, who is amorously pursuing the chaste nymph, Syrinx.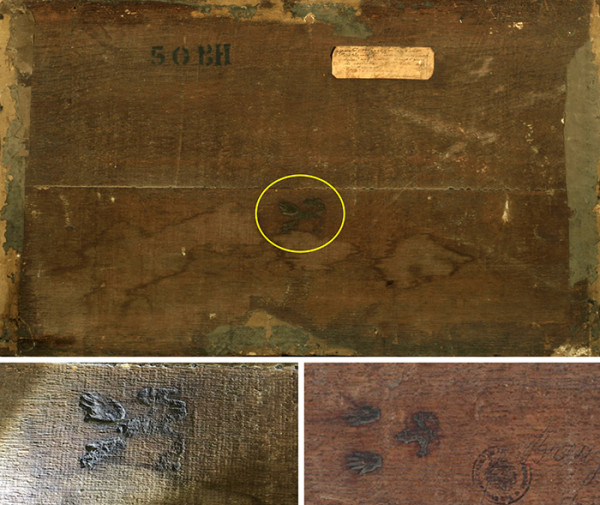 If we look carefully at the back of this painting we can see a brand mark. The image of the brand mark is comprised of two hands above a castle with three towers and it is the Antwerp coat of arms. The brand was required by the Antwerp Guild of Panel Makers for any panel prepared for use by an artist. The brand was applied by the Dean of the Panel Maker's Guild, the Guild of Saint Luke, and it signified that the panel was free of defects – such as sapwood or damage from wood worm – and made according to rigid guild standards. The panel would be suitable for fine paintings and would age well without significant defects. If the panel was not deemed suitable by the Dean of the Panel Maker's Guild the Dean would break the panel over his knee. The brand was in use from 1617 until around 1650.

This is the first time in my career that I have seen this brand, although I had certainly known about these brands' existence. Before my discovery it had not been known that the brand was there. It was an absolute delight to spot this mark – sort of like finding a four leaf clover!

Noho ora mai, Jenny Sherman
Conservator, Dunedin Public Art Gallery

[images: front and back photos of: Unknown after PAUL BRIL [1554-1626 Flemish] Landscape with Pan and Syrinx 1620. Oil on wood. Collection of the Dunedin Public Art Gallery. The detail lower right is an example of the brandmark from another work.]
NOTE: Our revised opening hours under Level 2 are 10am – 4pm daily.
You will be asked to check in using the Rippl app or a manual register for the purposes of contact tracing.

This painting is currently on show in the History section of the Style Substance: A Journey through the Collection exhibition. Here is a link to an instagram clip of a selection of highlights from the History chapter of Style & Substance click here
___________________________