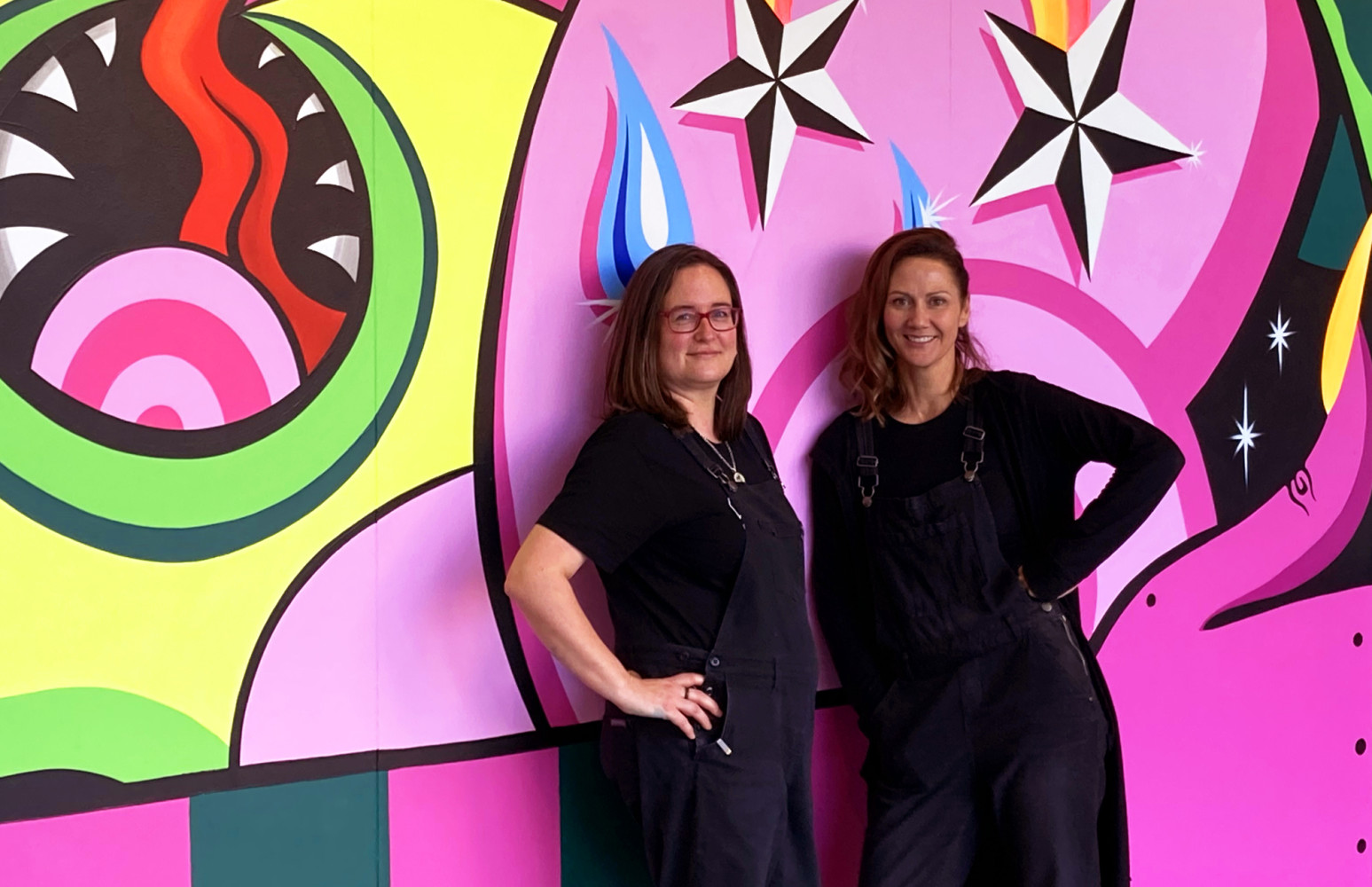 Kirsten Parkinson (Kaiako Māori) and Libbi Caskey (Kaiako DPAG)
2 May 2023
You can usually tell when a school group arrives at DPAG – the shuffling of feet in the foyer, the excited murmurings as an eye-catching work is spied for the first time, and then the warm welcoming from the DPAG kaiako as they wait to whisk ākonga off on adventures of storytelling and creativity.

If you come to DPAG on a weekday, you'll likely see our kaiako Kirsten and Libbi guiding tamariki and rangatahi through explorations of the gallery, you'll hear classes playing musical instruments in response to art and see them in hands-on creative workshops in the classroom.

Under the new Enriching Local Curriculum (ELC) programme, Kirsten Parkinson (Kaiako Māori) and Libbi Caskey (Kaiako DPAG) now teach both collaboratively and independently and engage in outreach opportunities to make deeper connections which move beyond the gallery walls. They welcome ākonga with diverse learning needs and as of this year, develop experiences for our youngest learners from early childhood organisations.

I asked our kaiako what their highlights working under the new ELC umbrella within the gallery has been so far. Both mentioned their happiness of being able to welcome a wider audience and engage in outreach opportunities, and both are excited to share the myriad of narratives entwined with Xoë Hall's large scale mural Bloodline – walls enveloped with atua Māori, Māori ancestral figures, and kōrero tuku iho, treasured stories handed down through generations. In this vibrant space, ākonga build knowledge, create memories through drama and play, and then respond to the work through interactive art making, taoka which they've created and can then take with them.

And watch this space, in the later part of this year artist Xoë Hall will be returning to continue the mural, building on these stories and wrapping them around the classroom entrance. An amazing opportunity for ākonga to observe an artist in action.

Noho ora mai
Rachel Cooper
Audience Development Manager, Dunedin Public Art Gallery

[image: Libbi Caskey and Kirsten Parkinson standing in front of the work Bloodline by Xoë Hall.]