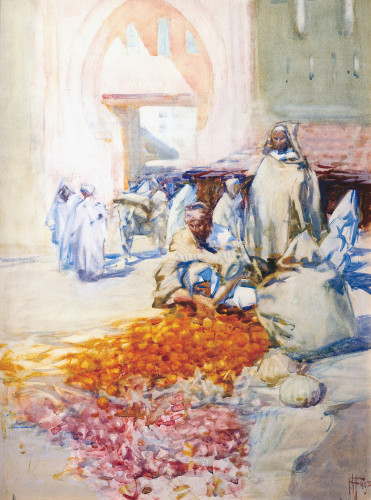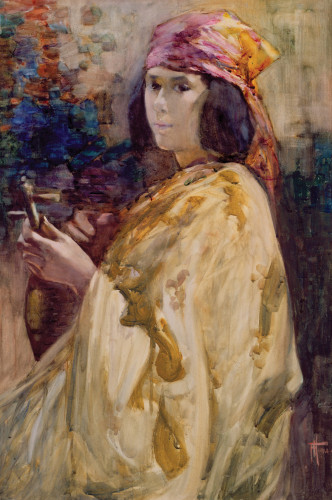 and Morocco
28 April 2010 - 29 August 2010
In 1913 Hodgkins told an Australian journalist that when she first went to England [she] 'was looking for colour and light, and I didn't find it. [...] So I took ship to Morocco, to get into the light and away from the gloom. [...] and I revelled in the light and colour.'
But she had other reasons: she was escaping an English winter, she was employed to give painting lessons to her companion, Mrs Ashington, and she was positioning herself within a well-established tradition—European artists had long been fascinated by the exotic world of North Africa and the Middle East. There was the example of her friend Norman Garstin, articles in the recent British art press encouraged artists to visit Morocco, and she would have seen a group of Orientalist paintings at the New Zealand and South Seas Exhibition, held in Dunedin in 1889–90.
Other New Zealand artists followed in her steps in later years.
Owen Merton (Christchurch, 1887–London, 1931) had visited Egypt on three occasions as he travelled between New Zealand and England in 1904, 1907 and 1909. He later spent six months in Algeria in 1923–24, where he and his travelling companions had gone in search of cheaper living than in France, and with the ill-judged hope that that would find the winter warmer.
Merton had lived in or close to New York from 1916 to 1923, had observed American modernism at close quarters, and had exhibited with some of the most avant-garde dealers. The influence of John Marin (1870–1953) is perhaps reflected in the dynamism and exuberant calligraphy of this work.
Katherine Airini Vane (Auckland 1891–Whangarei 1965), studied art in London before World War I and travelled widely in Europe, North Africa and North America during the 1930s.
John Weeks (England 1888–Auckland 1965) spent 15 months in Morocco, Algeria and Tunisia in 1927 and 1928 after studies in New Zealand, Australia, Scotland and France. The careful analysis of three-dimensional form in the works shown here follows on from a period of study with the minor French Cubist André Lhôte (1926), and anticipates the cubistic still-lifes, figure studies and landscapes Weeks would later paint in New Zealand.
Rhona Haszard (Thames 1901–Alexandria 1931) studied art in Christchurch before travelling to Europe in 1927. She painted in the Channel Islands, France, Greece and Cyprus, and was living in Egypt when she died after falling from a window.
View the exhibition labels – click here