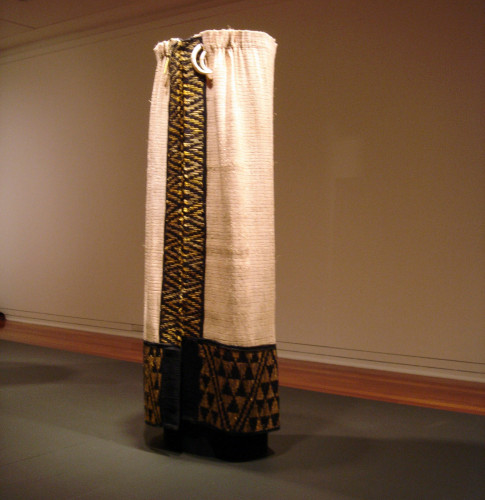 Tōku Haerenga / My Journey. Te Aho Ora / The fibre of life
14 June 2008 - 13 July 2008
Ko Ranginui te Maunga, Ko Hāwai te Awa, Ko Te Haraawaka te Tupuna, Ko Te Whānau a Apanui te Iwi. Ko Mataatua raua ko Horouta nga Waka, Engari tetahi o oku waewae kei roto ia koutou Ngati Porou, Ngati Awa, Ngai Tai, Te Arawa, Te Whakatohea, Tuwharetoa.
Roka Cameron
I was born in Ōpotiki in the late '40s and lived with my Kuia, Roka, and mother, Te Oti at Hāwai. I was raised in a Ponga Whare at Hāwai on the Pā in the rohe of Te Whānau a Apanui. Our whare had a dirt floor, no electricity, no running water, a single door opening and an outside toilet. Roka was in her late 70s when she was caring for me. She was tuturu Māori, which meant we lived by the ways of our ancestors. She could not speak English and so all of my communication with her was in Te Reo Māori. We survived on the toils of hard work from the land, growing kai: kūmara, rīwai and kamokamo and from the sea, which provided us with kaimoana: crayfish, kina, ngeangea, paua and ika. My mother and kuia were master divers and they knew where all the traditional kaimoana rocks were. Nanny Roka was a staunch member of the Ringatu Haahi and walked the many miles, by beach at low tide, to the various twelfths held at the neighbouring marae. She is well known for her journeys from Hāwai to Te Kaha. She was truly a servant of God. Nanny Roka wore a moko and this depicted her ranking within her hapu, Te Whānau a Te Haraawaka and her iwi Te Whānau a Apanui. The Tohunga performed his skill of ta moko on my kuia at the Kokohinau Marae, Te Teko in the rohe of Ngati Awa. My nanny Roka was a survivor of the Tarawera eruption during the late eighteen hundreds and it is where my name comes from. Rokahurihia means the tumbling turning rocks. I proudly carry her name and dedicate the mahi that I do to her and my mother Te Oti.
Tōku Haerenga – My Journey
This exhibition displays the result of a two- year project undertaken as ain the Master of Fine Arts Masters Programme with the Textiles Section of the School of Art at Te Kura Matatini ki Otago / Otago Polytechnic. In this work Rokahurihia Ngarimu-Cameron has focused on the translation of traditional off- loom hand woven garments, into a contemporary art practice in loom weaving. Her Māaori art viewpoint is paramount into her work as she looks to her culture for inspiration and sophistication. While being an established Māori weaver, with this body of work she has woven the two cultures of Aotearoa together. To honour the sovereignty of the phormium tenax- te whitau o te harakeke, Roka needed to develop her own technique to use individual strands of the harakeke (flax) fibre on a loom, which traditionally requires endless continuous spun threads. Her Journey has not stopped at simple loom weaving. She cured seal skins, wove tartans, prepared kKereru pelts and finally translated the traditional tāniko technique into computer- aided loom weaving. All the resources used in this show have been traditionally gathered, prepared and dyed by Roka.
Roka says of the harakeke: "'Its unique texture fuelled my desire to experiment and to push extend the possibilities of the fibre even further. I refer to this fibre as the thread of life, Te Aho Ora.
Not only has Te Aho Ora clothed our people for generations, it has been instrumental through its form in maintaining the adaptability and preservation of our art and our people.'"
"Tihei Aho Ora."
Rokahurihia Ngarimu-Cameron is a registered artist with the Māori authenticity trademark Toi Iho.
The Toi Iho Māaori Made mark is a registered trade mark of authenticity and quality for Māaori arts and crafts.
View the exhibition labels – click here