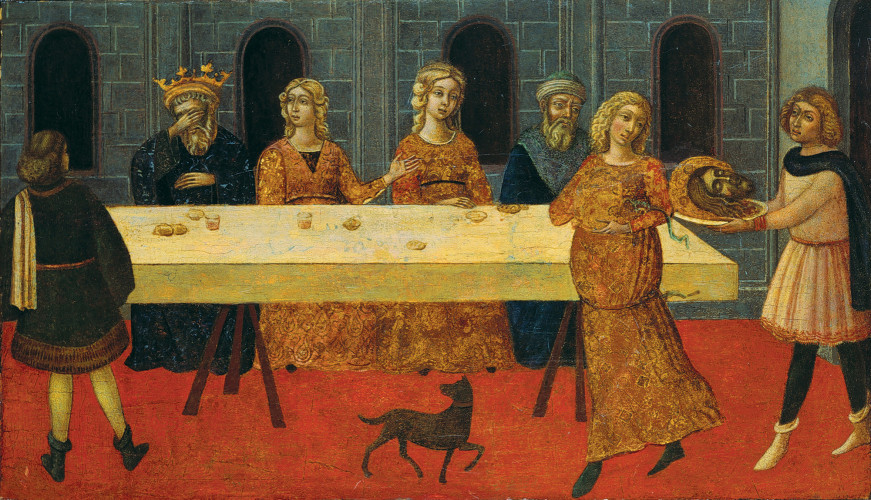 GUIDOCCIO COZZARELLI 1450–1516/17 Italian (Sienese)
Oil on panel
Collection Dunedin Public Art Gallery

Sienese painter and illuminator Guidoccio Cozzarelli developed his fashionably decorative and delightful style from 1470 to 1483, when he was associated with the workshop of the artist Matteo di Giovanni; the work of the two men is sometimes confused. Cozzarelli's richly coloured paintings typically combine complex patterned buildings and assembled cityscapes with delicate foliage and activated characters, who appear to delight in the religious or classical dramas they are enacting. This charming painting, which may originally have been a predella panel (at the foot of an altarpiece), is characteristic of the artist's style. The open-faced figures, with their flowing curly hair, widely spaced almond-shaped eyes, delicate long-fingered gestures and animated stances, are a foil to the gruesome subject-matter of Dance of Salome. Although Cozzarelli, like most of his contemporaries, painted traditional biblical images such as those of the Virgin and Child, towards the end of his career his workshop in Siena was the main producer of decorated secular furniture, such as cassone (decorated chests) and cupboards.
Dance of Salome, bought from a private French collection at an exhibition held by the London dealer Wildenstein, was acquired with funding assistance from the now defunct Queen Elizabeth II Arts Council of New Zealand. Poet and arts benefactor, Dr Charles Brasch, then a member of the Dunedin Public Art Gallery Society Council, was instrumental in encouraging the purchase, although correspondence reveals that he also chastised the Gallery for its lack of a coherent collection policy, in which 'every work enhances the value of every other, instead of a mere miscellany'. This Cozzarelli work, the Gallery's only example of a 15th-century Sienese painting, has been frequently exhibited and much admired by the public since its acquisition in 1967.


This text is written by Robyn Notman, taken from the book, BELOVED: Works from the Dunedin Public Art Gallery (page 44).