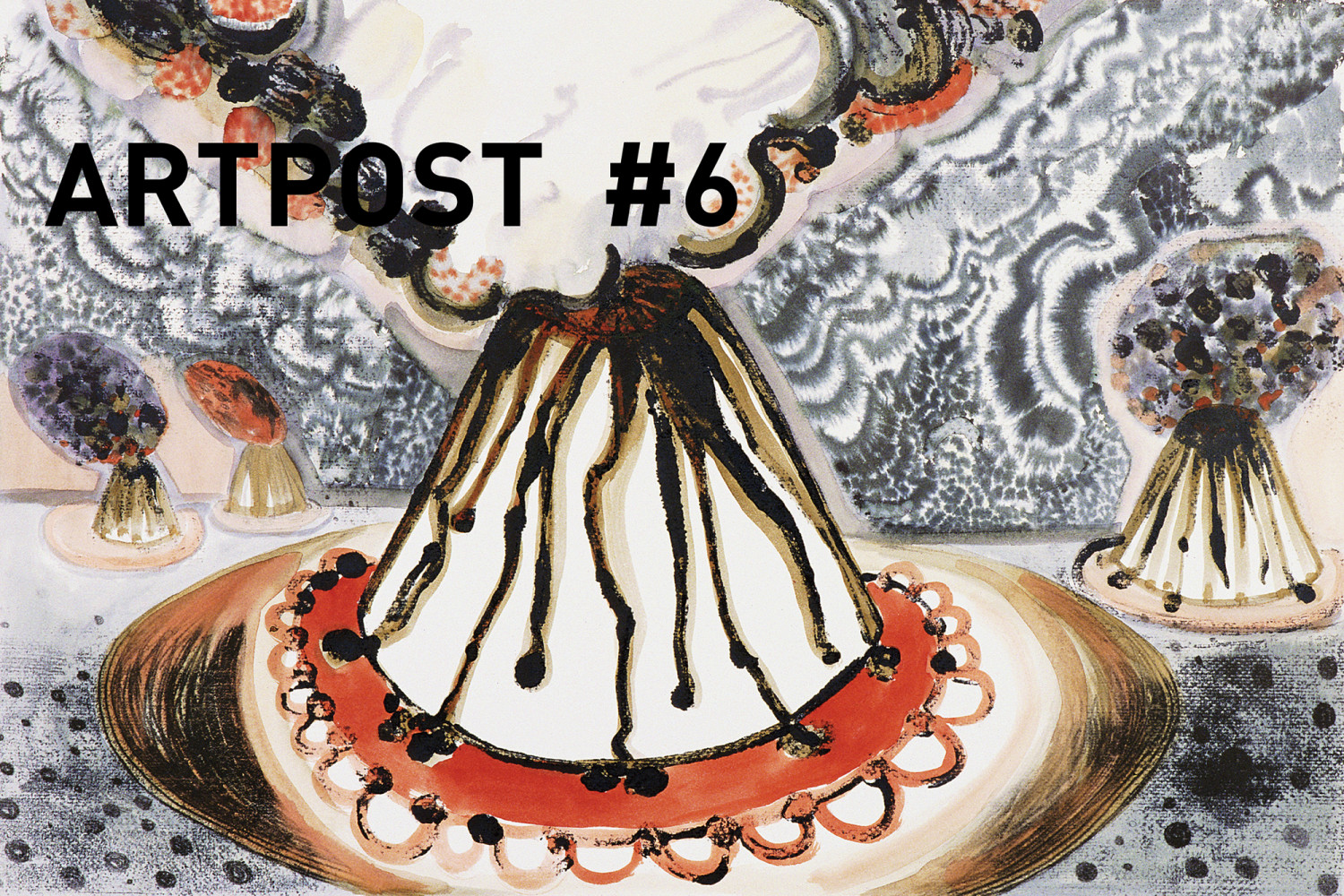 DPAG Weekly Update
11 May 2020
Kia ora dear friends of Dunedin Public Art Gallery... something old (home-baking – but not as we know it); something new (Kapa Mā by Kalisolaite 'Uhila); something borrowed (science meets art); and something to do (the DPAG Art Quiz and a dazzling new Art at Home activity)...
_________________________________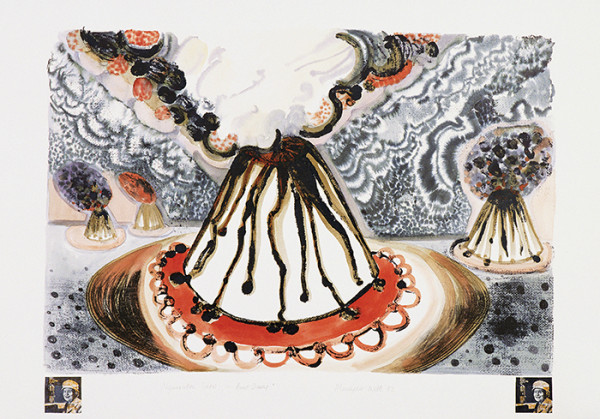 something old
continuity – a favourite artwork
DPAG Curator, Lucy Hammonds, celebrates the past yet prescient series of work Taste Before Eating by Marilynn Webb.
Marilynn Webb (Ngā Puhi) uses her work to make her voice heard. One of Aotearoa's most acclaimed printmakers, Webb has a career spanning six decades. In Taste Before Eating (1982), she fuses her life experience with her feminist principles and her environmental activism to create an important body of works. Two versions of this series are held in the collection of Dunedin Public Art Gallery, shown together in 2018 in the exhibition Marilynn Webb. In this short video, join me and take a close look at Taste Before Eating – click here.
[above: MARILYNN WEBB Ngauruhoe Snow 1982 Monotype. Collection of the Dunedin Public Art Gallery]
_______________________________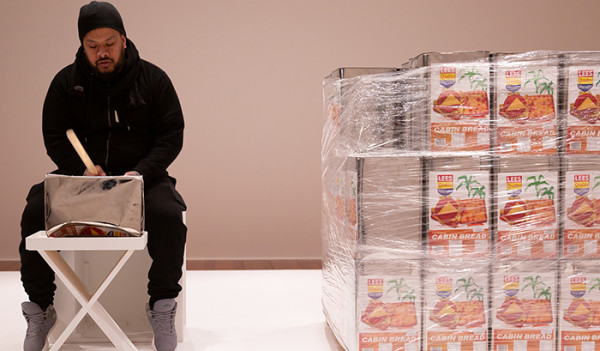 something new
optimism for the future – a recent acquisition
KALISOLAITE 'UHILA
Kapa Mā (2019)

In late 2019, Dunedin Public Art Gallery presented Kapa Mā - an ongoing performance by Kalisolaite 'Uhila (Tonga). In Kapa Mā 'Uhila used the gallery as an open studio, inviting visitors into his process of creating this durational drumming performance. Over the days, weeks, and months, 'Uhila and members of the public worked together to transform a stockpile of commercial Cabin Bread tins into drums, leaving a record of their efforts inscribed into the surface of spent, beaten tins. In Kapa Mā, these large tins of Cabin Bread – a common food item in homes throughout the Pacific – operate as a metaphor for food, the tin itself representing industrial processes. In each of his drum beats, 'Uhila marks time, records labour, and reflects upon sustenance, work, domestic life, masculinity and Pacific identity.

Dunedin Public Art Gallery is pleased to announce the permanent acquisition of this art work, which exists as both a sculptural record of 'Uhila's time in the gallery, as well as a performance work. This will be the first major work by 'Uhila to enter a public collection in Aotearoa, and a significant marker of the key concerns of his art practice.
[KALISOLAITE 'UHILA (b.1981) Kapa Mā (2019). Materials variable: found tins, drumsticks, drum stands, live performance. Collection of Dunedin Public Art Gallery]
______________________________

something borrowed
borrowed happiness — from George Seurat
POINTILLISM
"Some say they see poetry in my paintings; I see only science"
George Seurat, Pointillist artist
Pointillism was a painting technique created by George Seurat and taken up by other artists including Henri Matisse and Paul Signac who then moved on to experimenting with colour (known as the Fauve movement). There is a delightful little Fauve painting by Signac in the Gallery's collection which you can view by selecting 'collection' on the website. The word 'pointillism' indicates the technique, which involved combining dots of different coloured paint together to compose a painting. Seurat saw it as a calculated scientific experiment.
Pointillism was a technique using paint but today we will use coloured pencil. By creating a small Pointillist work you will see how time-consuming the technique is and you will begin to understand how involved Seurat was with his scientific experiments (light, colour, vision) once your project starts to develop.
You will need:
Colour pencils and a sharpener of some sort to ensure the pencils are not too blunt

plain paper

HB or 2B pencil

ruler

eraser (optional)
Method:
Rule up a small square or rectangle on your paper. For accuracy measure in from each side and top and bottom of your paper to ensure the shape is equal on all sides. We used half of an A4 sheet and centred a rectangle on this.

The easiest subject matter to use in your Pointillist work is shapes – circles, squares, triangles and so on.

Lightly draw your shapes in your frame so that these marks wont be noticeable.

Choose a base colour you would like to see in one of your shapes and with your chosen pencil, start to fill the shape with dots. Now you can experiment by adding a second series of dots in another colour and so on. There are links below and you may like to study some of the Pointillist paintings on these sites. Our small sample above gives a glimpse into how involved you could become in experimenting with colours in this way.
Other suggestions are:
Try using paint – it will give you a much brighter image, as pencil is fairly pale in comparison. Use a brush with round squared-off bristles to make your dots. The bigger your brush the bigger your image will need to be, to be effective.

Cotton buds will also work, as you can use a new cotton bud for each colour of paint.

You might like to choose a still life rather than shapes.
Handy sites:
https://www.sothebys.com/en/articles/pointillism-7-things-you-need-to-know
https://www.nationalgallery.org.uk/artists/georges-seurat
______________________________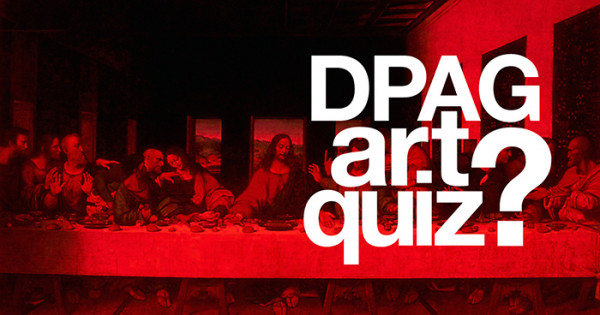 something to do...

1. The DPAG Art Quiz
There seems to be something missing from Da Vinci's Last Supper that shouldn't be? – click this link.

2. More ART at HOME activities
Check out the truly dazzling RAZZLE DAZZLE activity – just one of our latest ART at HOME projects go to the ART at HOME page.